Shirley de Kock Gueller in Sunday Argus  1st March 2015
WORKS THAT WILL LIFT YOUR SOUL
Artist Frank Spears's impressionist paintings are brought together in a comprehensive and well anotated book
If you don't know the artist Frank Spears or missed the Irma Stern exhibition last year, consider yourself bereft and take yourself off at once to St George's Cathedral where you can see one of the very very few works in the public domain.  Most are in private collections both here and abroad, bought at any one of his many exhibitions from 1933 on, and only occasionally does one come on the open market.
This book, therefore, is a blessing, for it, and the website  www.frankspearsthepainter.com, are the only ways you will be able to get to know a body of impressionist style works that will lift your soul. Evocative, colourful, appealing and accessible to those whose taste runs more to Monet than Vermeer, you will find this book a joy. It's not only a document of his life as a painter, but with Iziko's Hayden Proud's introduction and Melissa Sutherland's interesting text which sets him in the historic scene of Cape Town art, a social history. 
Spears, not to be confused with the Francis Howard Spear whose rose window flourishes in St George's Cathedral, or the Australian landscape artist Frank H. Spears, was  far more than a painter. As Proud says, he was a designer, musician, singer, radio broadcaster, businessman and yacht designer as well. Far more than that, he became one of ours.  Like the composer Charles Ives who made his money from insurance so he could compose for love, Frank Spears secured his family (he was married to the poet Dorothea Spears) as a businessman, and painted,  without the physical needs for his family that drove most of the painters of yore.  And what paintings they are.  He was born in the UK in 1906 and came to South Africa in 1928 as a draughtsman to work for a shop fitting firm, so while his works are impressionist in many ways his technical skills are clear for he wanted, he said, to always have his subject show through, and be in the title.                  He was ahead of his times ... his shop front design for Muller's Optometrist on the corner of Longmarket and Parliament streets still exists (the shop is now a museum and is possibly the only remaining Cape  Town building that showcases inside and out his extraordinary design ability), his Art Deco designs predating the iconic Old Mutual building on Darling Street.   Proud, who notes that the time for reassessment of this artist is well overdue, writes an excellent account of the prevailing mood when Spears arrived, the parochial,  conservative, inclusive and snobbish  attitudes and the split that came when Boonzaaier's pro-modernist New Group  left the traditionalists of the SA society of Artists. Spears seems to have been a pacifier, maintaining ties with both camps and adding lightness and colour to the post war fights.
His life was full and although he ended his years in the country of his birth, he considered himself a South African, embracing so many facets of Cape Town life.  A baritone, he sang in and narrated Peter and the Wolf for the Cape Town Municipal Orchestra, he was a broadcaster and radio actor for the SABC, even recording a series on painting and how a picture is made. He produced plays for UCT's drama school, he was a keen yachtsman and he continued to exhibit, every couple of years, coming back to South Africa for most of them.
As Proud says: "As a man who was continually on a quest for spiritual meaning through creative enquiry, his complex and diverse output resists neat and convenient categorisations. Therein lies its significance." 
That said, the themes are indeed wide-ranging from portraits and landscapes to music, clowns and stained glass, and they are a testimony to life: Beethoven Sonata, String Trio and Homage to Mozart (he listened to classical music in his studio and enjoyed Wagner's Ring in Bayreuth); Harlequin (clowns were, to him, always melancholy), Descent from the Cross, (he was a mystic but prayed constantly), Bathers, and Yellow Daffodils (later in life he walked through his garden and then painted the flowers as they had spoken to him). 
You have a Metropolitan Museum of Art collection in one book of 140 excellent reproductions and I am sorry not to own just one original but lucky that I have a couple of friends who do!   A few in public places are Descent from the Cross which is to the left of the high altar in Saint Georges Cathedral; The Altar piece at the Church of the Resurection, Bonteheuvel;  The sained glas window at the Thom Theartre Stellenbosch; a couple in the National Gallery although they are not on show; in the Hester Rupert Museum Graaff-Reinet;  a Triptych at the Williams Humphreys Art Gallery in Kimberley;  and at the Pretoria Art Gallery.
A stained glass window was detroyed when NG Synod in Orange Street was demolished to make way for what is now a hotel.
A vision realized by his son, Johnny, and daughter-in-law Rosalind Spears, themselves swallows from the UK and owners of a good number of his paintings including the cover Beethoven Sonata, this is a book worth having. At R500, it can be bought from selected bookshops or from the website.
CAPE TIMES  12th February 2016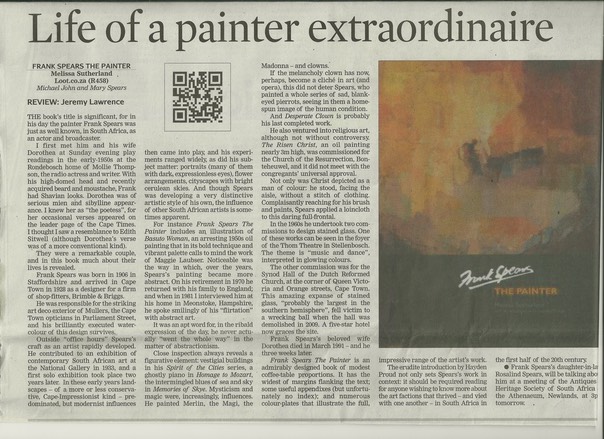 SAILING for South Africa               February 2015
Frank Spears - the Painter by Melissa Sutherland
One may question why a book of this nature is being reviewed in this magazine?
The answer is quite simple really as Frank Spears has previously been mentioned in our 'Blast from the Past' section, but importantly as he played a major role in our sport - the sport of sailing.
Plus this book has a section on his sailing involvement and designs.
He became interested in sailing in the 1940s and served on committees at Zeekoe Vlei Yacht Club, and was a member of the Royal Cape Yacht Club, despite not being a keelboat sailor.
The first boat he built was a 12-foot pram named Frandora, and thereafter followed Argosy and Yankee - both bigger.  He also built a 'Zeekoe Vlei Sharpie" and a 16-foot sailing canoe.  In those days sails were made of cotton, but being an enterprising old soul he wrote articles on how to make sails at home using Teryline - and encouraged others to try it.
In the mid-'50s he built a Bob Bongers designed 'scratch' class 16-foot dinghy based on the lines of the English Merlin class.  It was built over formers using edge nailed spruce timbers running lengthewise with steam bent oak ribs rivetted to the side of the shell after which the formers were removed.
In 1956 at the age of 50 he designed the Spearhead (Goodricke) 16 foot dinghy - using cold-moulded plywood construction.  This boat was an instant hit and resulted in his being asked to design a 12 foot racing dinghy that had a spinnaker and trapeze.  The result was the 'Andy' dinghy.
This magnificent book is full of his paintings from portraits to landscapes, life paintings and more.  Sadly though there are very few boat paintings of his in this book - just four.
'Harbour Reflections' (1965) and the other entitled 'Sails on the Solent' (1974) are both oil on canvas.
'Reflections' and 'Sails' (1965) are both oil on board.  I specifically like 'Sails' which is not too abstract.
His work was exhibited at the Irma Stern Museum in Cape Town in December and January, so if you missed that this book will have to suffice.
Frank Spears the Painter can be ordered directly from www.frankspearsthepainter.com or www.printmatters.co.za at R449.00 plus packaging and postage.